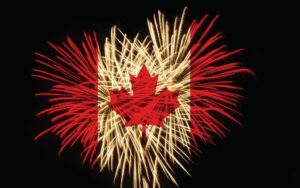 Hard to believe Canada is 155 years old. They sure grow fast.
Although the events were scaled down this year in comparison to years prior, it was wonderful getting together on Canada Day this long weekend with a couple of friends to stroll along Victoria's inner harbour.
Mingling amongst all the tourist and fellow residents of this amazing place I get the pleasure of calling home, I was reminded of just how lovely and vibrant this garden city is.  I even stayed up late enough to watch the fireworks from the top floor of my building in Vic West. Not an easy feat staying up past 10 p.m. but I am happy I was able to capture a few great photos and to share the experience with a few new residents in the building.
We did not talk much about work or real estate matters while chatting but we did note the incredible view and how great the location of our building is in Vic West.
Imagine though, you meet someone new and, during the conversation, you ask what they do for a living. They answer, "I'm a plumber." Chances are, you immediately conjure an image of them installing pipes or fixing leaks.
But you also know they probably do much more.
A similar thing happens to me occasionally. Someone will ask what I do and I'll tell them I'm a real estate agent. They then immediately assume I help people buy and sell homes.
And, of course, that's true! But I actually do much more for my clients.
For example, I'm there for clients when they have questions or need advice, even during the years between moves.
I'm also available to clients when they need a recommendation. For example, if you're looking for a good contractor for an upgrade you're planning for your home, I can probably give you a name.
And, I also keep my clients informed with valuable market updates, tips, and how-to articles. (That's why I send you this e-Newsletter each month.)
The bottom line is, I'm there for you throughout the home ownership journey, helping ensure you're always in a property that matches your lifestyle and goals.